Regular price
Sale price
$440.00
Unit price
per
Sale
Sold out
Introducing Canna Rhizotonic, an algae-based, potent vegetative stimulator designed specifically for plant roots. This 100% natural formula is enriched with multiple vitamins and contains over 60 microbiological substances, creating an ideal environment for accelerated and balanced root growth.

Discover the benefits of using Canna Rhizotonic:
1. Stimulates Root Growth: Rhizotonic not only enhances root growth in established plants but also promotes the development of new roots in cuttings and transplants. The unique blend of trace elements and vitamins, including B1 and B2, stimulates hormone production and root growth, resulting in the emergence of beautiful, strong, white roots.
2. Speeds up Germination: When diluted (40ml/10 liters), Rhizotonic can be used to soak seeds prior to planting. By softening the seed skin, Rhizotonic facilitates easier bursting and faster germination of seeds.
3. Enhances Overall Plant Growth: A healthy plant lays the foundation for successful cultivation, and Rhizotonic plays a vital role in stimulating root growth and strengthening plant vigor. This is particularly crucial during the initial weeks of a plant's life when they are most vulnerable. By fostering further root development, Rhizotonic improves disease resistance, promoting robust growth and inner and outer strength.
4. Assists in Recovery from Stress: Whenever plants or cuttings experience stress, Rhizotonic aids in their swift recovery. Many growers attest to the quick healing of stressed plants when Rhizotonic is applied as a foliar spray. Whether it's transportation, repotting, or dealing with unhealthy or underdeveloped plants, Rhizotonic plays a vital role in their rejuvenation.
5. pH Adjustment and Versatility: Rhizotonic can be sprayed on leaves and serves as a simple method to raise the pH level in fertilizer tanks. It can be used across various growing mediums, including potting mix and hydro culture, throughout the entire growth cycle, from seed to harvest.

Canna Rhizotonic is the go-to solution for promoting robust root development, accelerating growth, and ensuring the overall health and strength of your plants, regardless of the cultivation method or medium used.
Share
View full details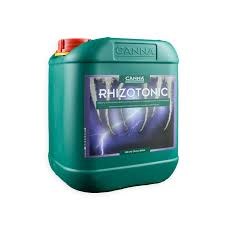 Additional Details
Shipping & Delivery

In Stock Quantities Online may vary due to in store sales. Online quantities are pulled from all of our branches stock levels.

We will do our best to fulfil your order. If your order cannot be filled promptly you will be refunded via method of purchase or contacted to arrange alternate options.

We will only deliver to a New Zealand address at this point in time. We don't deliver to PO Boxes.

Pickup orders may show available in store on the product page but may not be available in the quantities in your cart. You may have to adjust the quantities in your cart at checkout to be able to pick up at a specific store.

Pickup Orders are confirmed once checked by staff at location of pickup. Please wait to be contacted by staff before coming to store. 

Photo ID Of Person Who's Name is On The Order Must Be Presented to staff when picking up and must match name on order. We do not accept name changes of orders once placed so please make sure you are filling in the correct details. 

If goods are Not Received within 7 days of purchase, contact us.

Any Damaged or Missing Items from your order must be brought to our attention within 7 days of receiving your order.

If your item is Oversized or More Than 25kg you may be contacted for an additional freight charge to be calculated upon picking of order. 

We use Courier Post as our freight provider. Prices and providers are subject to change without prior notice.

To ensure successful delivery make sure there is some one Present at the Delivery Address during business hours.

Delivery times are normally 1-2 days to the North Island and 2-5 days to the South island once dispatched. Rural delivery can take an extra day longer.

In Stock Quantities Online my vary due to in store sales. We will do our best to fulfil your order promptly. If your order cannot be filled promptly you will be refunded or contacted to arrange alternate options.