Regular price
Sale price
$180.00
Unit price
per
Sale
Sold out
If you desire larger, more abundant fruits and flowers, look no further than CANNA PK 13/14. This exceptional product is a blend of premium nutritional minerals meticulously crafted to stimulate flowering and deliver impressive yields. With its user-friendly application and compatibility with any growing medium, PK 13/14 is a go-to choice for achieving astonishing results.

Unleashing the power of pure elements for flowering stimulation, CANNA PK 13/14 combines high-grade phosphorus and potassium in concentrated form. These elements play a vital role during the generative phase of plants, and CANNA's special production process ensures their rapid and direct availability to the plant.

Phosphorus (P) is a crucial macro nutrient that fuels metabolism and energy transfer in every plant. During the flowering phase, an extra supply of phosphorus is required to strengthen cell formation in flowers and support their development.

Potassium (K), another essential macro nutrient, permeates throughout the plant and plays a vital role in various activities. It facilitates water and nutrient transportation, upholds plant quality and rigidity, and regulates processes like sugar production. Potassium ensures the plant can generate sufficient sugars during flowering, which are vital for flower development.

To maximize the benefits of CANNA PK 13/14, the moment of increased phosphorus and potassium demand in the plant's development must be identified. Administering PK 13/14 at this critical stage satisfies the heightened requirements, resulting in optimal fruit development. When combined with CANNABOOST, which enhances metabolism and strengthens PK 13/14's effects, the plant thrives and produces abundant flowers.

PK 13/14 is suitable for use with any growing medium, whether it's soil, recirculating systems, coco, or run-to-waste systems. It adapts seamlessly to both indoor and outdoor cultivation, making it a versatile choice for all growers.
Share
View full details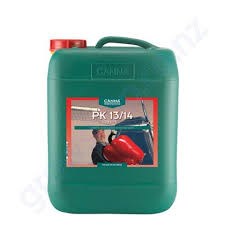 Additional Details
Shipping & Delivery

In Stock Quantities Online may vary due to in store sales. Online quantities are pulled from all of our branches stock levels.

We will do our best to fulfil your order. If your order cannot be filled promptly you will be refunded via method of purchase or contacted to arrange alternate options.

We will only deliver to a New Zealand address at this point in time. We don't deliver to PO Boxes.

Pickup orders may show available in store on the product page but may not be available in the quantities in your cart. You may have to adjust the quantities in your cart at checkout to be able to pick up at a specific store.

Pickup Orders are confirmed once checked by staff at location of pickup. Please wait to be contacted by staff before coming to store. 

Photo ID Of Person Who's Name is On The Order Must Be Presented to staff when picking up and must match name on order. We do not accept name changes of orders once placed so please make sure you are filling in the correct details. 

If goods are Not Received within 7 days of purchase, contact us.

Any Damaged or Missing Items from your order must be brought to our attention within 7 days of receiving your order.

If your item is Oversized or More Than 25kg you may be contacted for an additional freight charge to be calculated upon picking of order. 

We use Courier Post as our freight provider. Prices and providers are subject to change without prior notice.

To ensure successful delivery make sure there is some one Present at the Delivery Address during business hours.

Delivery times are normally 1-2 days to the North Island and 2-5 days to the South island once dispatched. Rural delivery can take an extra day longer.

In Stock Quantities Online my vary due to in store sales. We will do our best to fulfil your order promptly. If your order cannot be filled promptly you will be refunded or contacted to arrange alternate options.