Regular price
Sale price
$140.00
Unit price
per
Sale
Sold out
CANNA Aqua Vega emerges as a high-performance nutrient solution designed to fuel rapid growth in plants by providing all the essential elements they require. The significance of the growing phase cannot be overlooked, as it lays the foundation for a lush bloom and abundant yield. Aqua Vega is specifically formulated for use in recirculating systems such as NFT or ebb and flow systems.

Benefits of CANNA Aqua Vega

1. Ease of Use and pH Stability: Aqua Vega is designed to simplify your cultivation process. It readily dissolves in water, making it easy to administer. Additionally, Aqua Vega nutrition incorporates pH-stabilizers, eliminating the need for manual pH adjustments. This saves you time and effort, allowing for a hassle-free growing experience.

2. Promotes Strong and Vigorous Growth: Aqua Vega is engineered to stimulate robust plant growth, facilitating vital growth spurts and promoting extensive root development. These traits are essential for establishing a strong and healthy plant foundation, setting the stage for abundant future growth.

3. Optimal Nutrient Absorption: Aqua Vega is enriched with directly absorbable nitrogen compounds, high-quality EDDHA iron chelating agents, and trace elements. This precise combination ensures an ideal start for the blooming phase, providing the plants with all the necessary nutrients to thrive. This guarantees an optimal nutrient uptake and utilization, further supporting the plants' growth and development.

The A&B Nutrient System

CANNA Aqua Vega nutrients consist of two separate components: Part A and Part B. This deliberate separation serves a specific purpose. When certain elements from Part A and Part B are mixed simultaneously, they tend to precipitate and form insoluble compounds, rendering them inaccessible to the plants. To overcome this issue, it is essential to add the A component first, followed by the B component. By following this sequence, you can ensure maximum nutrient availability and absorption by the plants.

By choosing CANNA Aqua Vega, you gain access to a high-quality, fast-acting nutrient solution that provides the essential elements required for optimal growth. With its user-friendly features, strong growth stimulation, and optimal nutrient absorption, Aqua Vega sets the stage for a thriving and prosperous cultivation experience in your recirculating system.
Share
View full details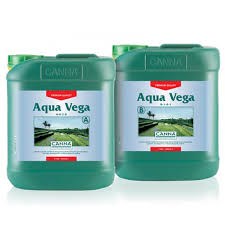 Additional Details
Shipping & Delivery

In Stock Quantities Online may vary due to in store sales. Online quantities are pulled from all of our branches stock levels.

We will do our best to fulfil your order. If your order cannot be filled promptly you will be refunded via method of purchase or contacted to arrange alternate options.

We will only deliver to a New Zealand address at this point in time. We don't deliver to PO Boxes.

Pickup orders may show available in store on the product page but may not be available in the quantities in your cart. You may have to adjust the quantities in your cart at checkout to be able to pick up at a specific store.

Pickup Orders are confirmed once checked by staff at location of pickup. Please wait to be contacted by staff before coming to store. 

Photo ID Of Person Who's Name is On The Order Must Be Presented to staff when picking up and must match name on order. We do not accept name changes of orders once placed so please make sure you are filling in the correct details. 

If goods are Not Received within 7 days of purchase, contact us.

Any Damaged or Missing Items from your order must be brought to our attention within 7 days of receiving your order.

If your item is Oversized or More Than 25kg you may be contacted for an additional freight charge to be calculated upon picking of order. 

We use Courier Post as our freight provider. Prices and providers are subject to change without prior notice.

To ensure successful delivery make sure there is some one Present at the Delivery Address during business hours.

Delivery times are normally 1-2 days to the North Island and 2-5 days to the South island once dispatched. Rural delivery can take an extra day longer.

In Stock Quantities Online my vary due to in store sales. We will do our best to fulfil your order promptly. If your order cannot be filled promptly you will be refunded or contacted to arrange alternate options.